The Public Procurement Regulatory Authority is an autonomous body endowed with the responsibility of prescribing regulations and procedures for public procurements by Federal Government owned public sector organizations with a view to improve governance, management, transparency, accountability and quality of public procurement of goods, works and services. It is also endowed with the responsibility of monitoring procurement by public sector agencies/organizations and has been delegated necessary powers under the Public Procurement Regulatory Authority Ordinance 2002.

Developed Nations in the world have revolutionized their economies through e-procurement systems. Over time a strong need has been felt dearly in the Government arena to develop an e-Procurement system for Pakistan to achieve economies of scale, transparency, economy, quality and efficiency in public procurements. The growth of Public and Private sector are equally important for a stable economy. Their need to be on the same page revitalizes the essence of e-GP system.

E-Procurement is the purchase of goods, works and services electronically and is an integral part of an overall strategic procurement plan in the current business environment. The plan includes, but is not limited to strategic sourcing or supplier rationalization, automation of the manual procurement system, and participation in one or more market-places.

The focus is on streamlining of business processes along with building a digitized product catalogs and automating the RFQ -based purchase processes while providing integration with the ERP/SCM systems. It is estimated that the cost of placing a purchase order will plummet drastically and the increased choice and flexibility will make for higher levels of profitability, wider competition, transparency, economy and efficiency in public procurements.

To support the development, implementation and operation of e-procurement systems, governments have undertaken several different business approaches; from complete in house solution to various types of third party partnerships. Each implementation has its own set of benefits and business issues associated with it, which directly affect both the government and the suppliers doing business with the government.

Implementation of an e-procurement programme is more than a technical project, and the business model, approach and practices applied may have more of an affect on the success and integrity and the e-GP system than the technical features of the application itself. A careful analysis of the study undertaken by World Bank, to examine business approaches and practices used by the governments around the world for the execution and operation of e-procurement system, reveal the following common business approaches: -

The above choices of business models are associated with the amount of risk and cost a government organization is willing to undertake when implementing its e-Government Procurement Programme. The systems also contain important information for monitoring and auditing government purchases, confidential information of venders, procurement initiatives, responses to bids and payment information. It is important to note that e-procurement systems fundamentally provide a service to support the exchange information and therefore remain independent of the procurement process itself. A certain level of security is required in order to ensure the integrity, transparency and privacy of the e-procurement system, but actual procurement process is protected by the Procuring Agency.

An e-G implementation Strategy

PPRA has developed e-GP implementation strategy which is sensitive to all of the elements that distinguish one jurisdiction from another including PPRA' management, PPRA Ordinance, PP-Rules 2004, PP- Regulations 2008, PPRA Guidelines, Infrastructure and web services, SBDs and Private Sector viz a viz Government Sector active participation. Accordingly an e-GP implementation strategy, like any reform strategy, has been developed, customized and owned by each jurisdiction

To deliver the maximum output, "E-Procurement system PPRA" strategy will address the following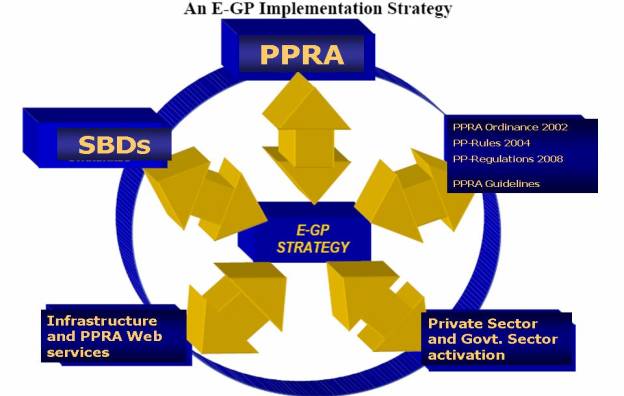 key areas which will strengthen the procurement reform program.
Political and executive leadership and authority

Management procedures, regulations and legislation.

Broad stakeholder involvement.

Infrastructure.

Technology
PPRA and E-GP Implementation Strategy:
PPRA, since its inception, is balancing the interest of the stake holders both within and outside government which is an essence of a Regulatory Authority. The vision of "E-Procurement system PPRA" is to provide a level playing field for stakeholders, achieve economies of scale through automation of the manual procurement process thereby ensuring transparency, economy, efficiency, value for money and quality in public procurements. "E-Procurement system PPRA" will be one of its own kinds in Pakistan with in the Government arena which cater all the e-procurements related to public funds. The proximity of "E-Procurement system PPRA" demands proper phased implementation, and sound planning. Considering the scarce resources, Government and political setup, vision of management, local and international market scenario, timeline and stakeholders' interest, the implementation of "E-Procurement system PPRA" has been divided into four phases.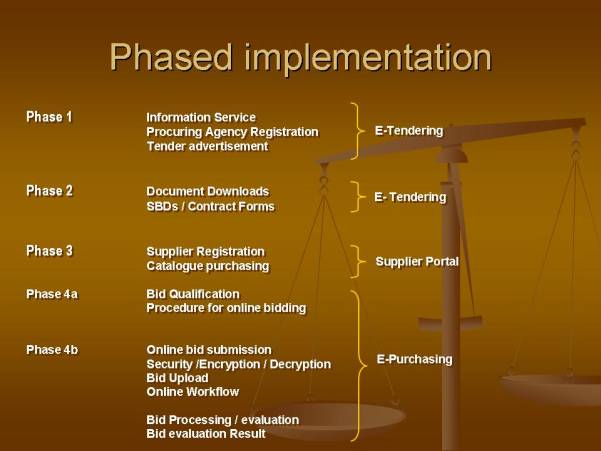 Phase 1 E-Tendering:
Phase-1 E-Tendering includes Information services related Tender uploads, Procuring Agency registration, and E-Tender forms. Phase 1 has been launched. A unique user name and password is assigned to procuring agencies upon request. Tenders are uploaded by the Procuring agencies after logging into the system. Under Rule 12 of Public Procurement Rules 2004, it is mandatory for procuring agencies to advertise the procurements over one hundred thousand rupees on PPRA website.
Monitoring & Evaluation:
The monitoring of tendering through by PPRA website is a continuous process and it is one of the major objectives of PPRA to enhance awareness about PPR Rules through monitoring & evaluation and National Institute of Procurement (NIP) training programs and hence minimize violations made by procuring agencies. The IT wing of PPRA indicates the violations of PP Rules made by procuring agencies in the tenders uploaded on the Authority's website, print media and sent through surface mail, fax. The process of monitoring enables the procuring agencies to remove the violations in future tendering. It is heartening to note that with the passage of time over the period of 4-5 years, the violations done by procuring agencies have significantly reduced i.e. 95% in 2004-05 to 20% in 2009-10
Phase 2 E-Tendering (Document downloads, SBDs / Contract Forms)
Phase 2 is in the initial implementation phase. Second edition containing the Public Procurement Ordinance 2002, PP-Rules 2004, PP-Regulations 2008 and PPRA Guidelines has been uploaded on Authority's website for the convenience stakeholders for their ready reference. Updated SRO's, manuals, publications and related forms are also available to balance the interest of the Supplier as well as the Procuring Agency. Standard Bidding Documents (SBDs) / Contract forms will be uploaded shortly. As per Rule 7 of PP- Rules 2004, procurement exceeding the prescribed financial limit shall be subject to an integrity pact, as specified by the Federal Government between the procuring Agency and the Supplier or Contractor. The detail of the procuring agencies engaged in integrity pact has also been uploaded on Authorities website which can be downloaded free of cost.
Online Query system:
Online query system has been put in place considering the demand of stakeholders which will bridge the gap between Procuring Agency viz a viz Supplier and PPRA being the regulator.
Phase 3 Supplier Portal:
Phase 3 is in the development stage. Suppliers will get registered on the "E-Procurement system of PPRA". A unique user name and password will be assigned to each supplier upon request. The supplier will bid against a specific tender after logging into the system. The suppliers will be categorized into goods, works and services (including consulting services). Considering the history, background, financial condition and relevant registration with an appropriate forum / body, the suppliers will be further categorized into Cat A, Cat B, Cat C and even in the category of black listed suppliers if a supplier fails to meet quality or found in litigation. This awareness will save a lot of time of the procuring agencies thereby making the procurement process hassle free and effective.
Phase 4 (a) E-purchasing
Phase 4 (a) involves online bid submission, Security / Encryption/ Decryption, Bid upload and online work flow. Suppliers will submit bids online thereafter they will be uploaded and Encrypted using advance security system (security services can be hired from a third party) the same will be decrypted after bid maturity i.e. date of bid opening.
Phase 4 (b) E-purchasing:
Phase 4 b shall cater the bid Processing / evaluation and finally Bid evaluation results shall be uploaded. In the absence of "E-Procurement system PPRA" bid evaluation results are being uploaded on PPRA web portal www.ppra.org.pk for the convenience of stakeholders.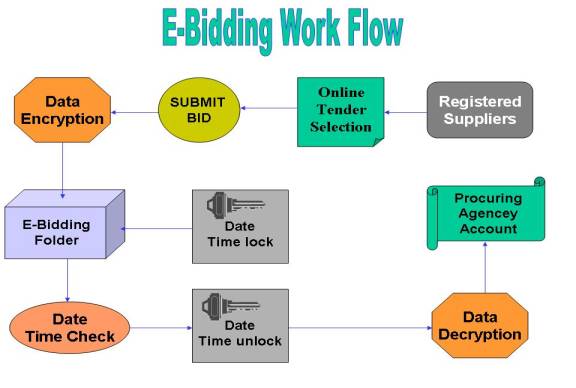 Legislation and Regulation:
Regulatory framework for procurement of goods, works and services is already available in the form of PPRA Ordinance 2002, Public Procurement Rules 2004, Public Procurement Regulations 2008 and PPRA guidelines.
PPRA with the approval of its Board levied a nominal fee of Rs.1000/- for uploading of each tender on its website and offered capacity building training on PP Rules & Procedures, @ Rs.1500/- per participant to Government and Private Sector officials from December 2009 as a first step towards financial autonomy.
Business Model:
Since PPRA web portal www.ppra.org.pk has already been launched for the advertisement of tenders hence it is ready to be taken to the next level in the form of "e-Procurement system PPRA". Therefore, government owned and operated model best suits for this job which will be in the parameters of available resources of PPRA and Government of Pakistan.
Funding Model:
System will be self funding through user fees in the form of annual subscription of each procuring agency and the supplier.
Basis of contract with service provider:
Inter government to government contract.
Cost to government:
Can be funded through inter government service fees.
Cost time to implement:
The current system is in the evolving phase since initial launch starting with a simple web portal for the advertisement of tenders.
Resources supporting operations:
Currently PPRA has 11 officers to support the operation, management and on-going development of the system and support activities.
No. of users submitting online tenders:
500
Number of procuring agencies:
452
No. of approx. venders visiting the website:
More than 5000 per month
Limitations:
1. Security of important data.
2. Manual procurement system or e-GP? Paradigm shift feasibility.
3. Limited number of IT Professionals for development and management of e-GP System.
4. e-GP strategy
5. e-GP standards / benchmarks
6. Standard bidding documents of goods, works and services
STANDARD BIDDING DOCUMENTS:
The quality procurements related to Goods, Works and Services to ensure transparency, economy, efficiency and value for money require standard bidding documents which should serve as 'benchmarks' for relevant procurement. Over a time PPRA had taken up this uphill task since its inception and has developed Standard Bidding Documents of Goods, Works and Services for the convenience of Procuring Agencies (PAs) as well as Suppliers. It is envisioned that Standard Bidding documents of Goods, Works and Service will ensure and facilitate compliance of Public Procurement Rules 2004 and would help to remove unnecessary bottlenecks in the procurement process.
Phase-II entails document downloads, standard bidding documents and Contract forms on PPRA website www.ppra.org.pk which is a crucial phase of E-Procurement system of PPRA. The Procuring Agencies as well as the Suppliers can download the required standard bidding documents in real time by logging into a secure system. Every effort has been made to make the system reliable, secure and efficient through effective searching techniques. PPRA vide S.R.O 805(I)/2008 has adopted Pakistan Engineering Council (PEC) Bidding documents for Works constituted under the Pakistan Engineering Council Act, 1975 (V of 1976). PPRA has developed tentative model SOPs, SBDs and contract forms which will help in the design phase for implementation of eprocurment system and will require formal approval of the Federal Govt. before implementation of this proposed e procuement system of PPRA.. Following Contract Forms and Standard Procurement Forms (SPFs) related to Goods, Works and Services are available for the general awareness of Suppliers as well as Procuring Agencies (PAs).